The GeoFit Bordeaux demo is a retrofit geothermal installation realized in the scope of the GeoFit UE project. It deals with the installation of a geothermal system on a Bordeaux University building to reduce a part of the building gas consumption during the heating season and improve the cooling efficiency during summer.
Considering the energy needs of the building and the available space outside, two types of ground source heat exchangers have been installed:
2 earth baskets, for model validation
1 vertical bore hole with 2 probes to complete the source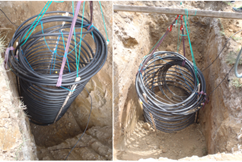 The heat pump is made of 2 units as follows:
The heating unit, which is based on adsorption technology, gets back energy from the soil with a gas remainder to reach the high level of temperature needed by the technology
The cooling unit, based on compression technology and working with propane.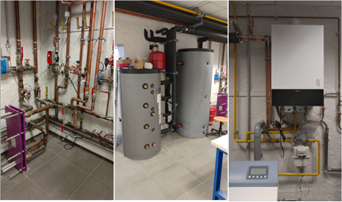 The installation of the heat pump required some significant changes on the existing distribution energy system (cooling and heating network)
Currently, the installation is working. It allowed to cool a part of the building during the summer 2022 and will heat the same part of the building during the upcoming winter. The rooms concerned are offices of university staff and a conference room. The system must prove it maintains at least the comfort inside the rooms and decreases the primary energy consumption.
The installation operation and performances are followed in real time thanks to a dedicated monitoring system which sends the data on an external server.