Civil works began on December 3rd, 2020 at the Perugia Pilot. At that time, partner IDSGEORADAR performed a ground-penetrating radar measurements survey. Meanwhile, partner R2M operated UAV flights with and without a thermal camera. And all throughout the drilling phase, partner UNIPG completed the Structural Health Monitoring (SHM).
After one week, the works completed the shallow excavations of up to 2.5 meters deep. This meant the area was ready for the 50 centimeters of the sand bed that increases the conductivity on the ground.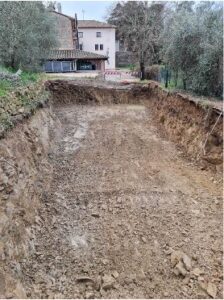 Later, on January 11th, the company in charge of the fieldwork started the installation of the slinky GHEXs that go 2 meters deep. It considers 5 parallel trenches, with 1.35 m of mutual distance, 24 meters of average trench length, and 53 rings for each trench.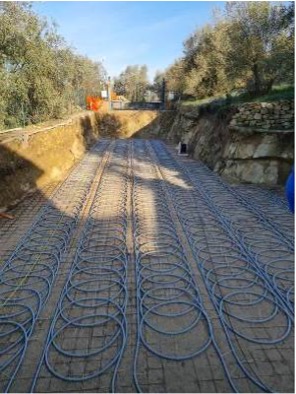 After the GHEXs installation, on January 18th, GROENHOLLAND came to the Perugia Pilot to install the fiber optic cable (FOC) monitoring. This technology has a particular approach that allows remote checking of the new system's performance while matting underground temperature.
To increase the innovative aspects and the scientific relevance, UNIPG installed on the first two trenches, two parallel tubes of a drip plant that allows experimental evaluations and comparisons that consider different boundary conditions and configurations, such as with varying ground hydration content.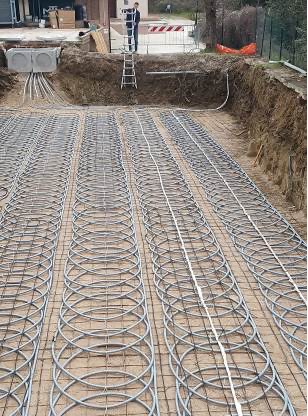 Finally, civil works were completed on January 28th as soon as all the excavated area was backfilled with an additional 50 cm of sand. Also, the ground excavated material was reused on-site.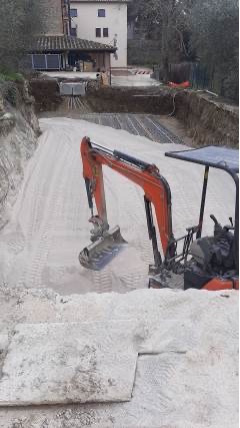 Furthermore, all the heating/cooling system components: heat pumps, boilers, tanks, are available on-site. And today, FAHRENHEIT's chiller also arrived at Perugia!
Presently, UNIPG is working to complete the whole installation by the end of March and to move forward with the commissioning of the system.