The GEOFIT project was recently presented at the World Geothermal Congress 2020+1 on 26th October in Reykjavík, Iceland. Around 300 people attended the conference across its 3-day duration (25-27 October), and there were 31 participating European-funded research projects (GEOFIT + 30 others) represented in the European Research & Innovation Pavilion organized by the GEOTHERMICA Project (Grant agreement ID: 731117). The pavilion has a dedicated website, and Twitter handle. The pavilion highlighted Research & Innovation European project's cooperation, displaying the research outcomes, and boosting the positive impact on geothermal needs and untapped energy. There was an opening speech at the Pavilion by EC Project Officer Ms. Filipa Vieira Matias. The GEOFIT presentation was delivered by Zia Lennard of R2M Solution, and after a general introduction of the project it focused on briefing the 5 Pilots and the various tools and methods being utilized within the project. The presentation was recorded and images of the slides are shown below.
Dự đoán kết quá xổ số nhanh nhất chính xác nhất ,đem lại niềm vui và sự bất ngờ cho anh dự đoán xsmn xoso me em đam mê chơi xổ số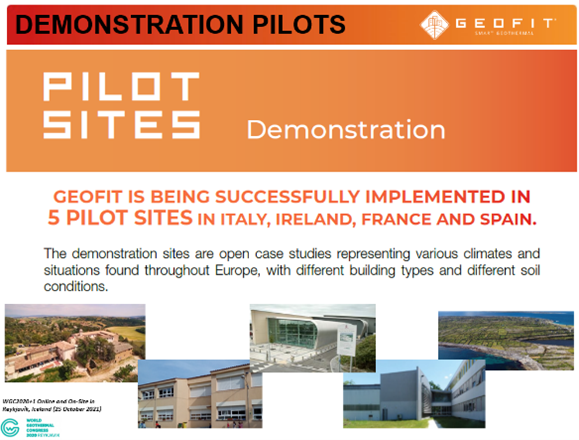 WGC 2020+1 had a limited focus on shallow geothermal for low temperature heating and cooling. However, in that regard hopefully the onsite GEOFIT presentation and the associated earlier virtual presentation delivered by Michael Lauermann and Edith Haslinger of the Austrian Institute of Technology raised awareness to the innovativeness of technology coupling at system level, as well as the wide potential and positive socioeconomic impact of geothermal technologies for building renovation for the attendees of the conference, market players, and scientific researchers.
Iceland has a total installed geothermal power generation capacity of 755 MW and is among the top 10 countries in the world when it comes to electricity generation from geothermal. In terms of direct use, Iceland has developed into a role model both with its extensive use for district heating (90% of all homes are heated by geothermal energy), but also in the cascaded use of geothermal heat for bathing and swimming, greenhouse operations, fish farming and more. Moreover, the potential impact of GEOFIT was very apparent when seeing how all homes and buildings in Iceland used to be heated by direct use of geothermal steam, as illustrated in the image below.